Frequently Asked Questions
Please read through our FAQ to find out more information regarding the Yoga classes and Massages
COVID19 Statement
Massage restrictions have now been lifted.  However, it is still important to continue to reduce the spread by ensuring that we implement the recommended safe distancing rules, adhere to hygiene, health, and wellbeing.  In the interests of health and safety for clients and myself, I will adhere to sanitisation and additional cleaning, as required, provide the space and time between appointments for clients to enter and exit safely.  I also request if you have any cold or flu symptoms, or just feeling unwell... please stay at home.
Leah Palmer-O'Malley
Frequently Asked Questions
Is massage safe during pregnancy
Yes, in the majority of cases, massage is safe for you and your baby after 12 weeks of pregnancy and preferably after the Nuchal Translucency Scan.
Of course, if you have had spotting/bleeding earlier in your pregnancy, or a history of miscarriage, clotting; Pregnancy Induced Hypertension, Pre-Eclampsia, Liver dysfunction or are on progesterone or blood-thinning medications, it is in your best interests to receive medical clearance from your Care Provider, before having any type of massage.
I take additional time to go through your health history at the initial appointment and at subsequent appointments, touch briefly on recent antenatal screening with your Care Provider, to ensure massage is still the safest option for you and your baby.
Can I claim on my Private Health Insurance?
Yes, I am required to maintain my skills and participate in continuing education; which also includes annual CPR updates and Senior First Aid. I must also stay current and financial with my Association which is ATMS and Malpractice and Professional Indemnity Insurances.
I have Provider Recognition with all Health Funds except Defence Health.
I don't have HICAPS, so full payment is required at the time of your treatment, I then provide you with a health fund receipt which you will lodge with your Health Fund and they will pay the rebate directly to you. The amount of rebate you receive will depend on the level of cover you have with your Health Fund. They will be able to provide you with an idea of what that is.
Can regular massage help with an easier labour and birth?
Most definitely. Your baby, inutero, relies on alignment and balance of your physical body; to ensure he/she has a symmetrical space. Any torsioning or twisting of the spine and pelvis can impact negatively on how a baby gains access to the pelvic inlet, moves through the mid-pelvis and navigates the last gate of the pelvis, the outlet.
Muscles that are too tight or taut, or conversely, too loose or lax or are in a state of imbalance; can slow this process. What does this create? Perhaps a baby that is malpositioned (breech or posterior), still sitting high at Term or during labour and not descending, deep transverse arrest (a baby stuck in the mid-pelvis) or an assisted 2nd stage (forceps, ventouse, shoulder dystocia).
Regular massage can assist with keeping the musculoskeletal body of the mother beautifully balanced, therefore creating a positive and balanced space for her baby and the best opportunity for a great birth experience.
How do I cancel or reschedule my appointment outside of hours, so I'm within the cancellation period?
If you need to modify (reschedule) or cancel an appointment, please locate the confirmation email (sent immediately after you book an appointment) or reminder email (sent 48hrs prior to your appointment) or SMS. Simply click on the login link at the bottom of the email or SMS and you will be directed to your account dashboard.
Alternatively, go directly to www.bookitlive.net and login using the email and password you created when you booked the original appointment.
What happens if I'm in labour or unwell and need to cancel my appointment with minimal notice?
I appreciate that sometimes illness can come on suddenly, as can the commencement of labour. 
If you need to cancel within 12-24hrs of your appointment, I respectfully ask that you or your partner/birth team, please SMS me ASAP on 0408204522. Even if it's through the night, I will see the message first thing in the morning and can contact waitlist clients to fill the appointment.
How soon after I give birth, can I have a massage?
If you had a straightforward vaginal birth, please allow 1 -2 weeks post-partum for breastfeeding to establish and breast engorgement to settle; as massage can increase a release of toxins into the breastmilk or cause mastitis if lying on the breasts for too long (although a pregnancy belly beanbag can still be used for support).
Even if not choosing or successfully able to breastfeed; the hormonal levels still need to adjust to enable milk supply and breasts to stabilise.
If your baby was born by caesarean or you required manual removal of the placenta under anaesthetic, it is recommended you wait until after your 6 week post-natal checkup, to obtain medical clearance.
If you had a vaginal Birth with post-partum bleed, requiring transfusion or iron infusion; allow at least 2-3 weeks.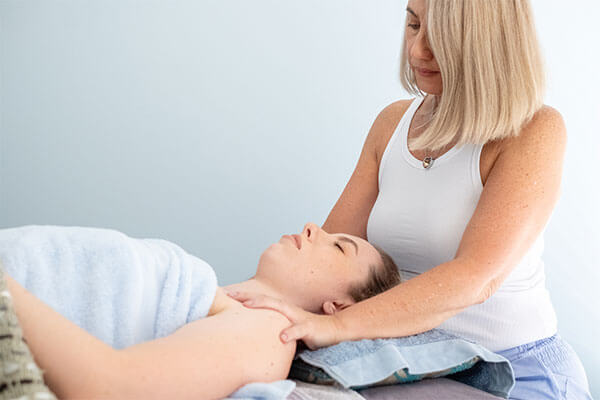 If you have any further questions please contact us
Sign up for our monthly newsletter and receive your FREE DOWNLOAD  "Alignment & Balance in Pregnancy"